Queens, New York, is a bustling suburb of Manhattan. Did you know that many famous and highly intelligent folks were born here? People like Donald Trump, Ray Romano, and Fran Dresher got their start in this thriving borough. Check out the most recognized people who were born or still live in the area on our famous people from Queens list!
1. Howard Stern
Howard Allan Stern is the infamous radio shock jock. He was born on January 12, 1954, to Ben and Ray Stern, who lived in the Jackson Heights neighborhood. Stern received his first radio job covering the 1976 Christmas season for WRNW. The station loved Stern so much that they offered him a full-time job, and the rest is history.
2. Lori Loughlin
Lori Anne Loughlin was born on July 28, 1964, to parents Joseph and Loralee Loughlin. She is known for her many roles in television and movies. Specifically, her role in show When Calls the Heart. She is married to famous Italian fashioned designer Mossimo Giannulli. They have two children together.
3. 50 Cent
Rapper 50 Cent was born Curtis James Jackson III to single mother, Sabrina Jackson. He was born in the South Jamaica neighborhood of Queens. His first music break happened in 2000 when he teamed up with Columbia Records. He has two sons but has never married.
50 Cent actually has a hit from 2011 called Queens, NY:
4. Donald Trump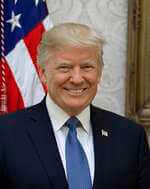 Donald John Trump was born on June 14, 1946, to Frederick Christ Trump and Mary Anne MacLeod. He lived in the Jamaica Estates neighborhood. His father was a real estate developer and gave Trump his start in the real estate world in 1968. He is currently the 45th President of the United States and married to Melania Knauss.
5. Ray Romano
Raymond Albert Romano was born on December 21, 1957, to Lucie and Albert Romano. He was raised in the Forest Hills neighborhood of Queens. Romano is known as a comedian and television star.
He is known for his hit television show Everybody Loves Raymond. He is currently married to Anna Scarpulla, and they have four children.
6. Martin Scorsese
Martin Charles Scorsese was born on November 17, 1942, in the Flushing borough of Queens. His parents were Charles and Catherine Scorsese. Scorsese is well known for his talent in filmography, and he has won many awards for his work. He is currently married to Helen Schermerhorn Morris, his fifth wife, and they have three children.
7. Bernard Madoff
Bernard Lawrence Madoff was born on April 29, 1938, to Jewish parents Ralph Madoff and Sylvia Muntner. He married Ruth Alpern in 1959, and he is still married to her. Madoff was a prominent stockbroker in the NYC area.
He was caught in an elaborate Ponzi scheme, and he is currently serving a life sentence for his involvement. He is currently in the Federal Correctional Institution in Otisville, New York.
8. Donald Rickles
Donald Jay Rickles was born on May 8, 1926, to parents Max Rickles and Etta Feldman. He grew up in the Jackson Heights neighborhood of Queens. Rickles was known for his stand-up comedy and being involved in numerous television shows and writing books. He married Barbara Sklar in 1965, and he was with her until his death on April 6, 2017.
9. Elizabeth Perkins
Elizabeth Ann Perkins was born on November 18, 1960, to Jo Williams and James Perkins. Though she was born in Queens, her family moved to Colrain, Massachusetts, where she started acting. She is married to Julio Macat and has one child with a former husband, Terry Kinney. She is most known for her role in the Netflix television series Weeds.
10. Francine Drescher
Francine Joy Drescher was born on Sep 30, 1957, to Morty and Sylvia Drescher. Though she was born in the Flushing area of Queens, she grew up in the Kew Garden Hills area. Drescher is a comedian and television actor, as well as an author. Her first role was in Saturday Night Fever in 1977, but she is mostly recognized as Fran Fine from the TV show The Nanny.
11. Al Roker
Albert Lincoln Roker Jr. was born on Aug 20, 1954, to Isabel and Albert Roker. He lived in the St. Albans community of Queens. He originally aspired to be a cartoonist, but in 1974 he became a weather personality from WHEN-TV. He is most notably known for his long-running role as a weatherman on NBC's Today Show.
12. Reggie Jackson
Reginald VelJohnson was born on August 16, 1952, to Reginald and Eve Johnson. He is an actor and is most notably known for his role as Al Powell in Die Hard and 2, and Carl Winslow in Family Matters.
He has no children and has never married, which has led many to talk about his sexuality. However, he has made no official statements.
13. Andrew Cuomo
Andrew Mark Cuomo was born on December 6, 1957, to Mario and Matilda Cuomo. He grew up in Queens and later moved to NYC. He is known for his career in politics and is currently serving as the 56th Governor of NYC as a representative for the Democratic party. He is in a domestic partnership with chef Sandra Lee from The Food Network.
14. Jesse Eisenberg
Jesse Adam Eisenberg is an actor born to Barry and Hallie Eisenberg from Queens. Though he was born in the NYC suburb, he grew up in East Brunswick, New Jersey. He is known for many small stints as an actor and now works as a writer, director, and star in many movies and Broadway musicals. He is married to Anna Strout, and they have one child together.
15. Idina Menzel
Idina Kim Menzel was born on May 30, 1971, to parents Stuart Mentzel and Helene Goldberg. Though she was born in Queens, she grew up in Syosset, New York. She is well known for her Broadway plays and in other acting roles. She is married to Aaron Lohr, and they have one child together.
16. Bernadette Peters
Bernadette Peters was born on February 28, 1948, to parents Peter and Marguerite Lazzara. She lived in the Ozone Park area of Queens. She has an expansive acting career that spans more than 62 years. She married 1996, and he passed in 2005. She has no children.
17. Michael Landon
Eugene Maurice Orowitz, aka Michael Landon, was born on October 31, 1936. His parents, Eli and Peggy Orowitz, raised Landon in the Forest Hills neighborhood of Queens. He was known as a wholesome actor in family-style productions, but his most notable role was Charles Ingles in Little House on the Prairie.
18. Harvey Weinstein
Harvey Weinstein was born on March 19, 1952, to parents Max and Miriam Weinstein. He is from the Flushing area of Queens. Weinstein is a famous movie producer that co-founded Miramax. He produced greats like Pulp Fiction. Weinstein is incrassated awaiting a second trial for rape and sexual misconduct.
19. Dick Van Patten
Richard Vincent Van Patten was born on December 9, 1928, to parents Richard and Josephine Van Patten. They lived in the Kew Gardens area of Queens. Van Patten is well known as a TV personality. His most known for his role as the patriarch in Happy Days. He died on June 23, 2015, with his wife Patricia Poole by his side.
20. Ethel Merman
Ethel Agnes Zimmermann was born on January 16, 1908, to Edward and Agnes Zimmermann. The official first lady to the musical comedy stage grew up in the Astoria area of Queens. She was married four times, and Ernest Borgnine was her last husband that died in 1964. She had two children and passed on February 15, 1984.
21. Cyndi Lauper
Cynthia Ann Stephanie Lauper was born on June 22, 1953. She was born to parents Fred and Latrine Lauper. Though she was born in the Astoria neighborhood of Queens, her family moved to Ozone Park section.
She began her extensive music career in 1977 and is still going strong. Some of her most notable songs are Girls Just Wanna Have Fun and True Colors. The native still lives and works in the NYC area with her husband, David Thornton.
22. Peter Jacobson
Peter Marc Jacobson was born on October 27, 1957, in the Flushing, Queens area. He is an actor and producer that is widely known for his role in the creation of The Nanny. Jacobson was married to Fran Drescher from 1978-1999, but their union ended abruptly during the shows run when he came out as gay.
23. Tony Bennett
Anthony (Antonio) Dominick Benedett was born on August 3, 1926, to parents John Benedetto and Anna Suraci. He was raised in the Astoria, Queens area. He is known as one of the all-time best jazz singers. He is married to Susan Crow, which is his third wife.
He has four children from his marriages. One of his best-known songs is I Left My Heart in San Francisco.
24. Christopher Walken
Ronald Walken was born on March 31, 1943, to parents Paul Wälken and Rosalie Russell. He was born in the Astoria, Queens area. He is an actor, singer, and comedian whose career has spanned more than 60 years.
It was his mother's infatuation with stardom that gave Ronald the push to enter the limelight. He changed his name from Ronald to Christopher to be more favorable with the fans.
25. Drea de Matteo
Andrea Donna de Matteo was born on 19 January 1972, to Albert and Donna de Matteo. She lived in the Whitestone, Queens neighborhood. Drea de Matteo is an American actress, most popular for her roles in Desperate Housewives and The Sopranos.
She is currently married to her second husband, Michael Devin, and they have one child together. She received an Emmy for her role in The Sopranos in 2004.
26. Dr. Joe Heck
Joseph John Heck – Dr. Joe Heck was born on October 30, 1961, in the Jamaica neighborhood of Queens. He is an U.S. Army Brigadier General and politician. Dr. Joe Heck served as a Nevada State Senator 2004 – 2008. He was a member of the U.S. House of Representatives from Nevada's 3rd district between 2011 and 2017.